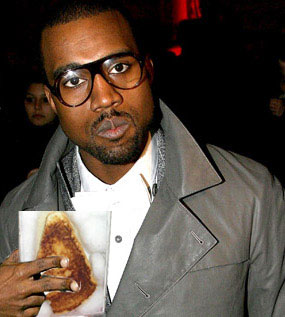 A week-old toasted cheese bears the divine image of rapper Kanye West, claims Kanye West.
West says he noticed the miraculous sight burned into a discarded sandwich about to be eaten by a hungry member of Mark Wahlberg's old backup band, "The Funky Bunch."
"I was checking out this broke dude pulling food out of a bin on 50th and Broadway, and then I saw my beautiful face looking back at me," he said.
Smitten with his Velveeta cheese-filled visage, West seized the sandwich out of the famished man's hands immediately.
"The Holy Kan-wich is gonna be bigger than the Jesus cider and Virgin Mary chocolate drippings combined," he boasted.
The item has inspired the rap artist to officially lobby for his inclusion in the Bible, as well as sell dozens of spin-off items, including replica burnt toast paper weights, T-shirts, ornamental plates, and domain names such as EvenGodDontGotNoSandwich.com.