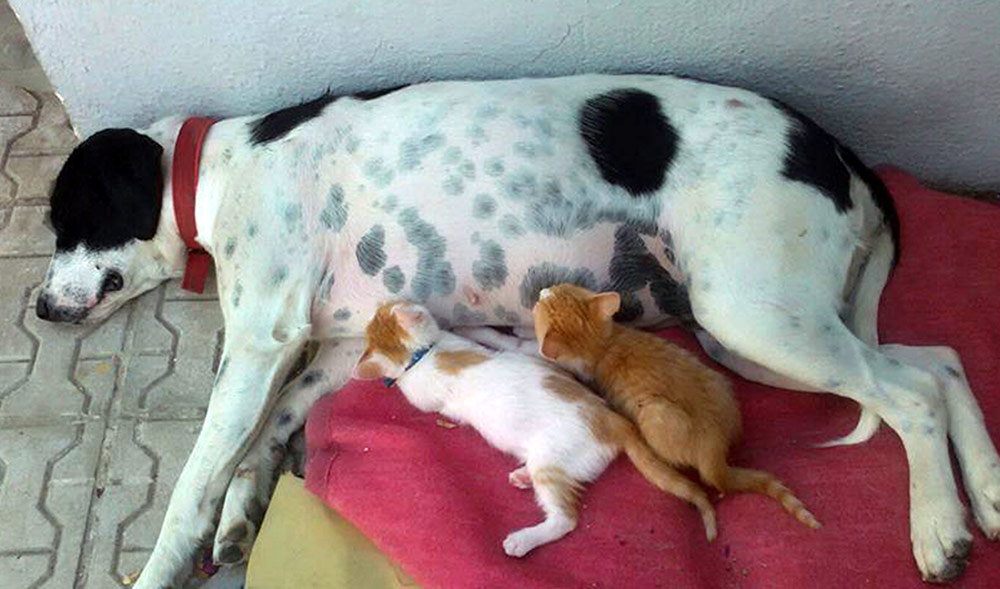 Friends, family members and even strange poodles at the dog park will sometimes offer suggestions–or opinions–to new canine mothers nursing abandoned kittens. Many times, although it's meant to be helpful, it can sound more like criticism than concern and make the dog want to bite the judgmental asshole right on the ankle. To avoid that unnecessary hurt (on both sides), here are six things NOT to say to a dog nursing kittens:
#1 — Do you know those are fucking CATS?!
Questioning the dog's ability to differentiate between a puppy and a kitten could irritate her, leading to hurt feelings and a pile of dog shit on your new shoes.
#2 — I'll feed the kittens with bottles so you can rest. A few bottles can't hurt.
STEP OFF, FORMULA PUSHER!
#3 — Nursing kittens will lead to saggy nipples.
Seriously, if you say that, you're just a dick.
#4 — Doesn't it hurt when the kittens knead your stomach?
Duh.
#5 — Are you really going to nurse those kittens right here in front of us?
A mom dog has every right to feed kittens in a public area. If it makes you uncomfortable, perhaps you're the one who should hide your head under a dog blanket!
#6 — Would you mind if I took a picture of you nursing those kittens and posted it on social media? 
Everyone knows people go NUTS for pictures of animals nurturing other kinds of animals on Facebook. However, as you can see from the dog's pained look above, she does not appreciate this violation of her privacy–so it's probably best if you just do it without asking for permission, like we did.
0