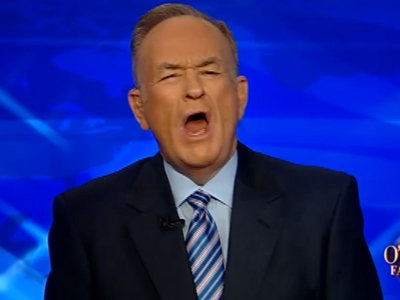 Hush, little Billy, don't say a word
Time to hit the road 'cause women don't want to see your li'l bird
Despite FOX News' best efforts to sweep Bill O'Reilly's disgusting behavior under the rug with piles and piles of hush money, the network has finally caved to pressure to fire the Murdochs' pet pundit.
"After a thorough and careful review of the [sexual harassment] allegations," parent company 21st Century Fox said in a statement, "the company and Bill O'Reilly have agreed that Bill O'Reilly will not be returning to the Fox News Channel."
And by "review of the allegations," they of course mean "review of the bottom line," with advertisers dropping out of the sexual predator's show in droves.
But don't cry for Billy! He can always find work officiating the weddings between people and goats that he claimed would happen after same-sex marriage was legalized.
And with his history of sexual harassment, he'll be well-positioned to run for president in 2024. Like Lazarus and John Travolta's hair, He will be raised from the dead!
0