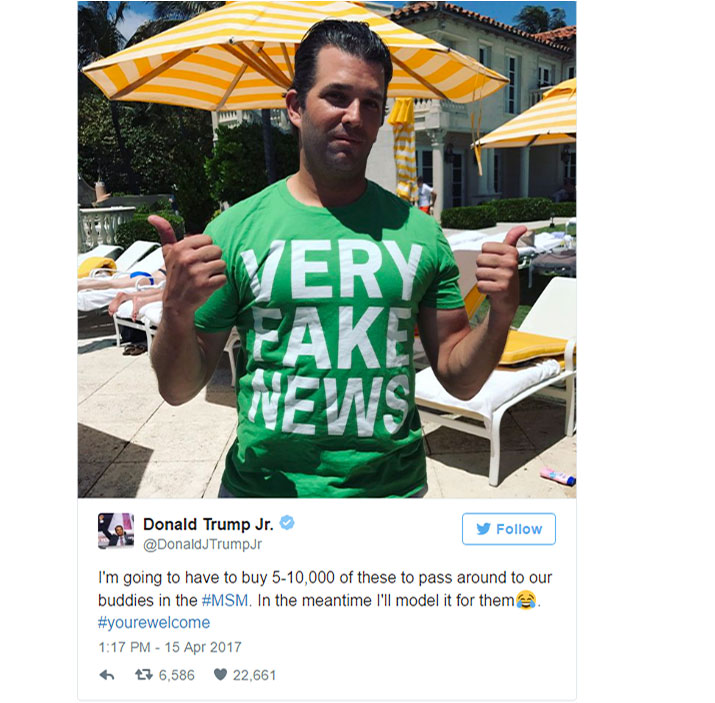 Donald Trump, Jr., apparently ready to star in Arthur Fonzarelli Takes Cancun, posted this oh-so-biting photo of himself wearing a green "VERY FAKE NEWS" t-shirt for the benefit of the mainstream media and Trump haters. Ooohhh! Good one, Donny #2 (how 'bout I just call you #2?). Thank goodness your dad failed miserably in repealing Obamacare, so my insurance will cover the prescription ointment for that sick burn.
As usual, the Internet stood prepared with an arsenal of comebacks.
@JoeMyGod pic.twitter.com/WDCQZq1fZZ

— Seth Goodtime (@SethGoodtime) April 15, 2017
If only we could blast #2 to the moon.
@DonaldJTrumpJr North Korea's threatening nuclear war, 43 million Americans live in poverty, and your dad's under FBI investigation. Cool shirt though.

— Seth Grahame-Smith (@sethgs) April 15, 2017
#2 has his priorities straight.
@seankent @rolandscahill @DonaldJTrumpJr Ok. Fixed it. pic.twitter.com/6KcNsVEJSP

— It's Zeke! (@robertlitvak) April 16, 2017
"Papa, Can You Tweet Me?"
@DonaldJTrumpJr pic.twitter.com/BVlndDeKPL

— Jack (@JackCox) April 16, 2017
Nothing fake about that news.
@DonaldJTrumpJr it is a very nice shirt pic.twitter.com/1DmgXGVYzx

— Matt Binder (@MattBinder) April 15, 2017
"I'm #2 and I approve this message."
0