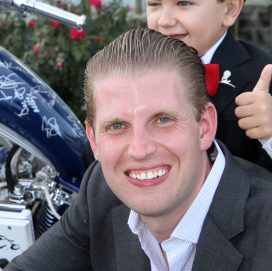 Eric Trump, who looks like the kind of guy who'd slip a date rape drug in Kelly Taylor's punch on 90210, today cried to FOX News that Democrats criticizing his dad are, like, "not even people," adding that "morality is just gone."
Because if anybody is the judge of morality, it's the guy who kills exotic animals for sport and steals money from children with cancer.
Well, Eric Trump, we Democrats have feelings, too, you know! Feelings that are best expressed through Shakespeare's Merchant of Trump Tower.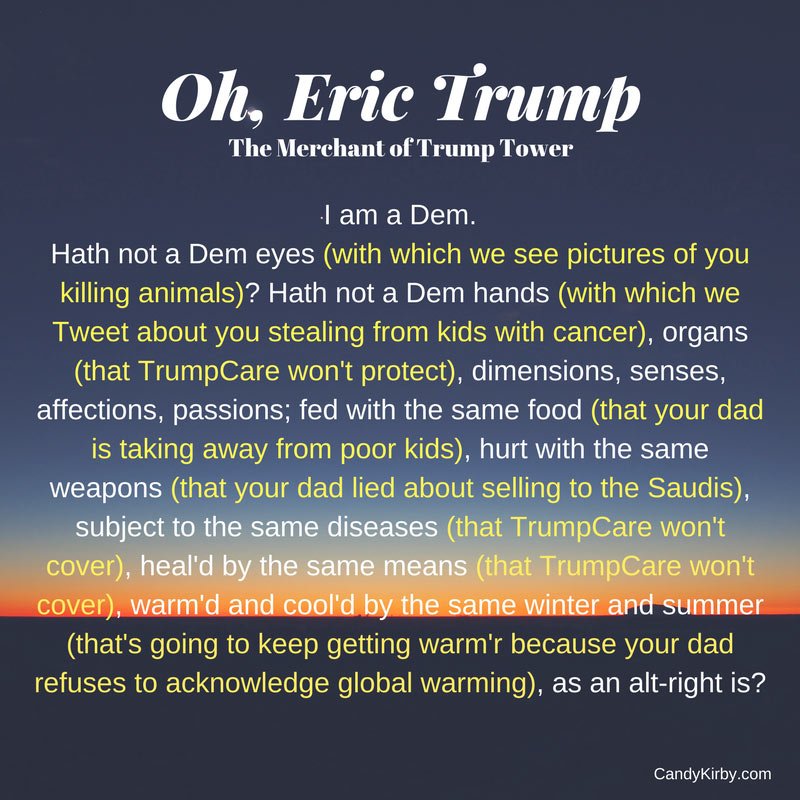 I am a Dem.
Hath not a Dem eyes (with which we see pictures of you killing animals)? Hath not a Dem hands (with which we Tweet about you stealing from kids with cancer), organs (that TrumpCare won't protect), dimensions, senses, affections, passions; fed with the same food (that your dad is taking away from poor kids), hurt with the same weapons (that your dad lied about selling to the Saudis), subject to the same diseases (that TrumpCare won't cover), heal'd by the same means (that TrumpCare won't cover), warm'd and cool'd by the same winter and summer (that's going to keep getting warm'r because your dad refuses to acknowledge global warming), as an alt-right is?
0